Clinical Issues and Managing Risk in Suicide Prevention (Knoxville)
In-Person Training
2 CE Hours

"Clinical Issues and Managing Risk in Suicide Prevention"
Amy Skinner, PhD, LPC-MHSP, ACS
Emily Heird, MS, LPC-MHSP
Event Date & Time

Friday, May 19, 2023
1:00pm – 3:00pm EDT
Location
The Laurel Theater
1538 Laurel Avenue
Knoxville, Tennessee 37916
Directions
Suicide accounted for over 40,000 deaths in 2020 in the United States and Tennessee ranks 40th in the nation for deaths by suicide (https://www.americashealthrankings.org). This lesson introduces the risks associated with malpractice liability for suicidal clients, discusses the legal elements for clinicians in Tennessee, and concludes with a discussion of risk management practices that have been shown to reduce clinician malpractice liability.
Objectives:
Participants will learn:
Essential elements of professional negligence and relevant Tennessee law (e.g., malpractice);
Risk management practices that can reduce your exposure to malpractice liability;
Professional ethics and standards of practice regarding treating suicidal clients.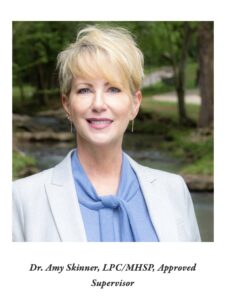 Amy Skinner, PhD, LPC-MHSP, ACS
 Amy is a Licensed Professional Counselor in the state of Tennessee and an Approved Clinical Supervisor. She was previously licensed in the state of Mississippi. She received her Bachelors degree from the University of Alabama and her Masters and PhD from Mississippi State University. She has been a director of a counseling center, a rehabilitation counselor, and she trained counselors at the University of Tennessee as a tenured professor for 16 years. She has been in the counseling field for almost 30 years, providing services to college students and adults.
Emily Heird, MS, LPC-MHSP