An Eclectic View at Innovating Your Practice (Nashville)
In-Person Training
4 CE Hours

"An Eclectic View at Innovating Your Practice"
Ian Jackson, LPC-MHSP, LHMC
Mackenzie Fox, LPC-MHSP (Temp)
April Ban, LPC-MHSP
Amanda Dunlap, LPC-MHSP
Sarah Rodgers, LMFT, RDT
Event Date & Time

Friday, March 31, 2023
8:00am – 1:30pm CDT
8:00am – Coffee, Snacks and Networking
8:30am – First Presentation
9:30am – Second Presentation
10:30am – Third Presentation
11:30am – Fourth Presentation
12:30pm – Lunch and Networking (lunch included)
Location
Riverside Revival
1600 Riverside Dr
Nashville, Tennessee 37135
Directions
This workshop is an eclectic view into innovating your practice in treating clients. The speakers at this event have a wide range of specialties that can help therapists continue to grow and be innovative in their practice. The topics being covered are: "Using music as a catalyst for engagement into evidence based practices", "The magic of treatment is relationships", "Understanding the primary core principles of drama therapy", and "The power of social health". This event will provide it's attendees with a variety of opportunities to use different interventions and perspectives to treating their clients.
Objectives:
To be able to utilize Music as a catalyst for engagement in treatment interventions.
To identify what social health is and why it matters
Participants will be able to understand primary core principles of drama therapy and find ways to reconceptualize interventions for their clients.
To understand the therapeutic benefit of relationships in treatment.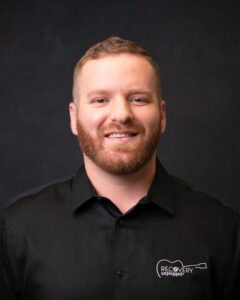 Ian Jackson, LPC-MHSP, LHMC
Ian Jackson is a licensed therapist in the state of Tennessee and Florida and has been working in the field of mental health and addiction for the last 13 years. Ian is currently the Clinical Program Director with Recovery Unplugged and is also a Guide with Onsite Workshops. Ian comes from a client-centered approach and brings a unique skill set to treating clients with the utilization of experiential approaches as well as the utilization of music as a catalyst for engagement.
Mackenzie Fox, LPC-MHSP (Temp)
Mackenzie Fox, LPC-MHSP (Temp) is the Director of Operations at The Collective in Nashville, TN. Mackenzie is a therapist in the Nashville area who specializes in treatment of body image concerns, anxiety and depression including co-occurring disorders such as eating disorders, substance abuse and trauma. She serves as the Director of Operations for The Collective, a treatment center focused on social health and connection. She is also heavily involved in activism efforts, bringing awareness and raising support for the eating disorder recovery community in the area.
April Ban, LPC-MHSP
April is a Licensed Professional Counselor with a Mental Health Service Provider designation and an Approved Supervisor Certification in Tennessee. She earned her bachelor's degree in psychology from Kennesaw State University in Kennesaw, Georgia, and her master's degree in counseling from Trevecca Nazarene University in Nashville, Tennessee.
April has been practicing for more than 15 years providing therapy services to individuals, families, and groups. She currently serves clients at The Next Door and Women of Worth as well as at her private practice. Additionally, April is an adjunct professor in the psychology program at Trevecca Nazarene University and serves as a pastor of The Anchor Fellowship.
Amanda Dunlap, LPC-MHSP
For the past 15 years, Amanda Dunlap has been a noteworthy leader in the addiction treatment space. She currently serves as the Clinical Executive Director of The Next Door and oversees all clinical programing, client care, and program management. Amanda started working for The Next Door in 2008 as a Program Assistant and has held various clinical positions, including Family Systems Counselor and Director of Clinical Services before being promoted to Clinical Executive Director in 2022. Amanda has developed clinical processes and created community partnerships to aid in top quality care for clients. With community being a top personal value, Amanda has assembled strong inter-departmental teams within The Next Door. Amanda believes that women are the cornerstone of the family and that if you change the life of one woman, you can impact a generation. She holds a BA in Psychology, a master's degree in Marriage and Family Therapy and is a Licensed Professional Counselor, Mental Health Service Provider for TN.
Sarah Rodgers, LMFT, RDT
Sarah Rodgers is a Licensed Marital and Family Therapist (LMFT #1179) in the state of Tennessee and holds a Master of Arts in Counseling Psychology with a concentration in Drama Therapy from California Institute of Integral Studies in San Francisco. Sarah is a Registered Drama Therapist with the North American Drama Therapy Association and an AAMFT Approved Supervisor. Sarah is a co-founder of Experience Therapy Group, a small group private practice in East Nashville focused on experiential therapy approaches. She also provides counseling for teens and adults part-time in her private practice, Creative Counseling Nashville, using special training in Somatic Experiencing, EMDR, and Brainspotting, and other approaches. Sarah has been a guest lecturer for Vanderbilt University, Nashville Psychotherapy Institute, and Vanderbilt Medical Center, and co-developed the ongoing Improv for Anxiety course with Unscripted Improv.