Photography as a Wellness Tool
Webinar
1 CE Hour

"Photography as a Wellness Tool"
Charaya Upton, LPC/MHSP, NCC
Presentation Date/Time
Ongoing
Photography has been used in many areas to help advocate, capture one's worldviews, and serve as art or inspiration. In this presentation, I will connect photography with The Wheel of Wellness. Wellness is essential for any counselor, and too often than not, burnout is caused when wellness goes left unchecked. I will explore with the audience the different ways photography can serve as a wellness tool and how you can use it with your clients.
Objectives:
Following this presentation, participants will identify the differences between therapeutic photography, mindfulness photography, and photovoice. With discussions on these different photography tools, they will better understand how to use them therapeutically.
Participants will be reminded/taught about The Wheel of Wellness and the spokes within
Lastly, participants will be able to make a connection to apply photography tools to the spokes within The Wheel of Wellness with the goal of improving insight into wellness practices.
About the Speaker
Charaya Upton, LPC/MHSP, NCC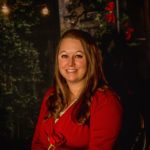 Speaker Bio
Charaya is a 3rd-year doctoral candidate at The University of TN Knoxville. She is an LPC-MHSP, NCC with a special interest in expressive art therapies. As a photographer, counselor, and educator, she works hard to establish research connecting her three passions to serve our communities better.