The Unsung Victims of The System: The impact of Incarceration on the Familial Wellbeing of Incarcerated African American Males
Webinar
1 CE Hour

"The Unsung Victims of The System: The impact of Incarceration on the Familial Wellbeing of Incarcerated African American Males"
Tremaine N. Leslie, PhD, LAC
Presentation Date/Time
Ongoing
African Americans encounter a high rate of imprisonment and the social, economic, mental, and other effects of imprisonment are extended to their families and communities. In addition to separating individuals from their families and communities, incarceration maximizes the probability for fractured relationships, fragmented communities, and encumbers the public service systems. Data for this qualitative study was collected from eight individuals who had significant relationships with incarcerated African American males.
Objectives:
Participants will gain insights into various lived experiences of individuals who have incarcerated African American male family members.
Participants will discuss the importance of acknowledging familial experiences as they cope with the incarceration of their African American male loved one.
Participants will explore the paucity that exists in shedding light on familial struggles as incarceration changes the dynamics of their homes and lives in general.
About the Speaker
Tremaine N. Leslie, PhD, LAC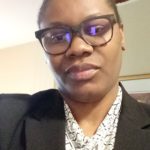 Speaker Bio
Dr. Tremaine N. Leslie is an Assistant Professor of Counselor Education and Supervision at the National Louis University in Tampa, Florida. Her clinical work is focused on reducing stereotypes concerning mental health care and help seeking in minority populations, especially people of African descent