Join Cumberland Heights along with co-sponsors Health Connect America, Mental Health Cooperative, TN Together, Ten Broeck of TN and Tennessee Commission on Children& Youth in a training for counselors, other interested mental health/substance abuse professionals and community leaders. It is titled Pillars of Recovery and has three fantastic speakers.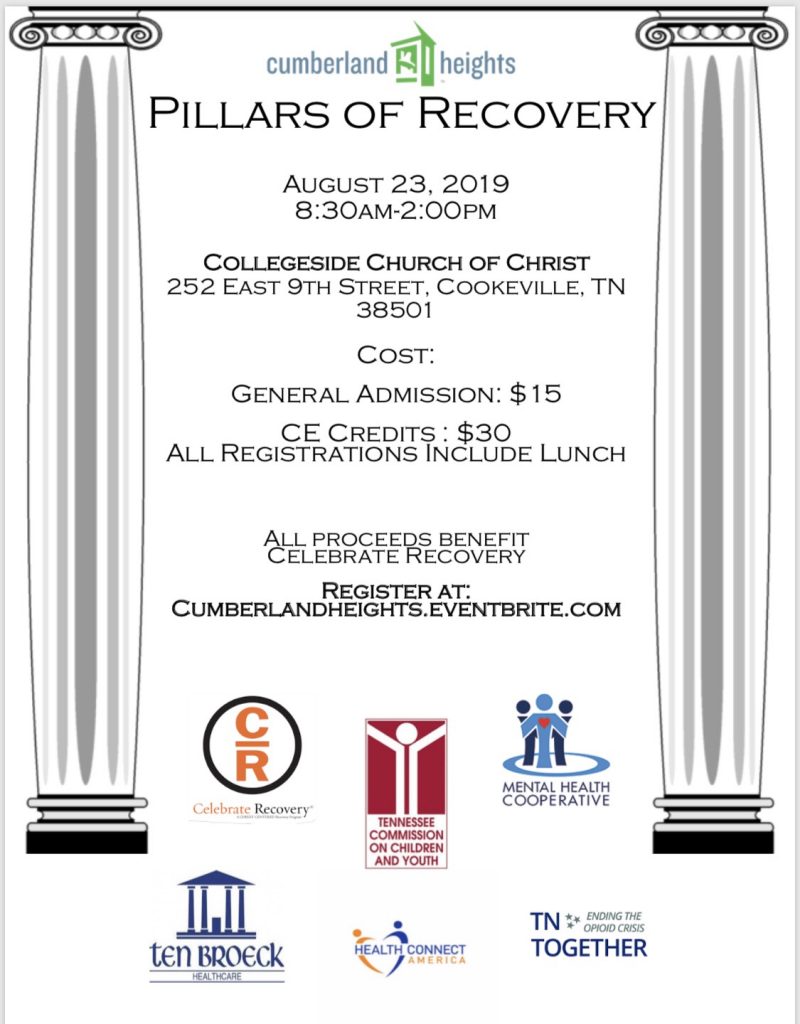 Cinde Stewart Freeman "The Model of Care" is a look at how co-occurring patients are diagnosed and treated in an inpatient setting as well as Cumberland Heights position on various forms of medication assisted treatment. Cinde is Clinical Director for Cumberland Heights
Stan Bumgarner "Spiritual Care Principles" looks at how helping patients achieve a sense of peace through a spiritual awakening is the key to long term recovery.
John McAndrew "Music Assisted Therapy" is the most fun, moving, and rockin' trainings you will ever see. John shows how music is used to help heal the brain and give your patients a feeling of peace and joy. John is an award winning piano player, singer and songwriter.
All three speakers have presented across America and abroad for Cumberland Heights and we are excited to bring them to the Upper Cumberland.
This Conference is approved for 3.5 ce's from: NAADAC AND NBCC
The cost is $30.00 for licensed counselors and $15.00 for general admission. This price includes lunch. All proceeds will go to Collegeside Church of Christ's Celebrate Recovery Program.
Seating for this event is limited to 80 attendees so register soon.